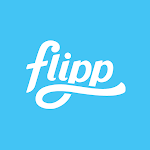 Author:
Flipp Corporation
Package:
com.wishabi.flipp
Reviews
Brief
Flip is an app that can help you save up to 50% on shopping. It brings together thousands of local stores including places like Walmart, CSV, Aldi, and many more. Flipp features weekly coupons, deals, and sales that are available within the app. It's a great tool to have in your arsenal if you are a person who enjoys shopping. Not to imply that this app is only for shoppers, quite the opposite, it's a handy tool for just about anyone.
Staying on a budget has never been easier. This app will guide you through every step of the shopping experience, offer you the best local deals, and help you calculate your shopping cost estimates. Say goodbye to annoying paper ads and discount, you now have the ability to get updated on your phone. The best thing about this app is that it's completely free and does not require you to pay anything in order to get started.
The flip app is available for download for Android, iOS, and Windows Phone users. The Android version maintains a high rating of 4.6 with almost 130,000 user reviews. The rating speaks of the high quality of the app. It's one of the most popular apps in the shopping category. Download it for free from this very page and start saving money on daily shopping.
Features
● Find the best deals and offerings from nearby stores.
● Explore the sales from up to 2000 stores. You have a lot of choices when it comes to shopping.
● Search for specific items and see what kind of deals are available for it.
● Save the coupons you like, so you won't have to search for them while shopping.
● Discover different offers/sales by categories. Everything is already nicely sorted out for you.
● The simple design. You simply cannot get lost in this app, it's very easy to get a hold of.
● Loyalty card. You can order this card for free and apply coupons to it online.
● Add different stores to your loyalty card, so you won't forget to use it at the checkout.
● You don't have to go outside the app in order to create a shopping list.
● Shopping list function. Customize, add, or remove items from within the app.
Pros
● Free
● Easy to use
● Friendly-design
● Sorted categories
● Easy apply-coupon-to-card process
● Small app size
● High rating
Cons
● In-app purchases
● Annoying pop-ups and ads
Conclusion
After exploring few different apps in the shopping category, we are now certain that Flipp is your best choice when trying to save on shopping. It has everything you need from making a shopping list to applying digital coupons to your loyalty card. I'm going to go even further and say that this app is revolutionizing the shopping process to a new level.
If you wish to download the latest version of this app, scroll to the top of this page where you can see the download link, click on it, and install the application.
Have fun saving tons of money on shopping!