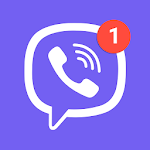 About Viber
| | |
| --- | --- |
| Name: | Viber |
| Price: | Free |
| Version: | 13.2.0.8 |
| Author: | Viber Media S.à r.l. |
| Category: | Communication |
| Package: | com.viber.voip |
Updates
Here are some of the new features in the latest version of the Viber app:
New sticker packs: The app now includes a number of new sticker packs, so you can express yourself in a more fun and creative way.
Improved video calls: The app's video calls have been improved, so you can see your friends and family in even better quality.
New features for businesses: Businesses can now use Viber to create chatbots, send automated messages, and track their analytics.
Bug fixes and performance improvements: The latest version of the Viber app also includes a number of bug fixes and performance improvements. These should make the app more stable and reliable.
Here are some of the other features of the Viber app:
Send and receive text messages.
Make and receive voice calls.
Send and receive photos, videos, and files.
Create group chats.
Play games.
Viber is a free messaging and video-calling app developed for smartphones. However, there is also a desktop version that you can download from Viber's official website for your desktop computer. The official launch of Viber was on Jul 20, 2011, but the test version came out earlier in 2011.
There's a known character in Viber's functionality. You won't be able to use this app unless you pay or sign up for an account. Free calls (including video calls) can be made as long as the two devices have Viber installed and got access to the internet.
You should be informed that Viber does not charge anything for regular or video calls. It uses internet bandwidth to communicate between the two devices. So, go ahead and sign up for Viber and enjoy a free calling and messaging experience.
Recently Viber launched an update that lets 20 people join the same calling group. Needless to say, this feature attracted a lot of new users. You're also able to stream the same video chat between these 20 people.
Features
•Conduct cost-free audio and video calls.
•Get notified with push notifications.
•Lots of stickers at your disposal.
•Numerous games are available for playing when you need to kill time.
•Send videos, voice messages, texts, stickers, smileys, doc. files, etc.
•The ability to create messaging/video-calling groups.
•You can sync Android Wear with Viber and get notified about texts without accessing the phone.
Let's see what some of our users are saying about Viber:
"The app is functionig pretty well, but I have experienced some issues: I could not save and export my data when I purchased a new mobile phone and Viber's support refused to help me. There were a lot of excuses from their part. They take too long to respond. Once, it took them 24 hours just to see my message and another 24 hours to respond. Don't get me wrong, the app is awesome, but lacks in the support department."
"This is probably one of the best texting apps all over the world. I have tried WhatsApp, Messenger, Telegram, etc. but nothing beats Viber. The best thing about this app and what I absolutely love is that it maintains a good picture quality. Have you ever sent high-definition photos through messenger? How did they turn out after downloading? This is exactly what I mean. No more compression and size losses."
"I have been using this messaging app for eight years now. I absolutely love that you can connect to your friends and family members from anywhere around the world. There are absolutely no location limits. You can contact anyone as long as you have the access to the internet. Call and Video call quality is as good as it gets. However, for all of its amazing features, it requires a pretty large amount of internet bandwidth in order to function at its peak. Some people see this as a disadvantage, I call it a plus."