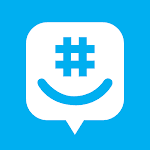 Package:
com.groupme.android
Reviews
GroupMe is an app that lets you chat with your friends for free. It does not matter if you are chatting with a whole group or a single person, GroupMe features still remain free for every user.
GroupMe makes it convenient to message all of your contacts through SMS or Push. What's even better this application supports all sorts of devices. Some of them include mobile phones, iPads, personal computers, and laptops.
You are free to contact any group of people through GroupMe chats. It's very easy to create a group up of several people and message them at once. When you send a message to the group you've created, it is seen by every participant.
GroupMe is a free app available for download and it maintains a high rating of 4.5 with more than 470,000 user votes. Judging from the reviews, it's pretty safe to assume that this app is universally loved by its users. If you wish to download this app for your operating system, click the download button on this page, choose the system, and enjoy all the free features GroupMe has to offer.
Main Features
● Free messaging in the groups – As already mentioned, GroupMe does not charge anything to its users in order to create groups, message people, or notify a certain participant.
● Share different kinds of media – GroupMe does not only allow you to send texts but all sorts of media files as well. Enjoy the rich experience of group chatting with stickers, emojis, videos, pictures, and GIFs.
● Location sharing – Did you know that GroupMe implements a GPS sharing function? It's very similar to what Google offers its users and can be done with just a few taps.
● Download files – GroupMe gives you the option to download files received through its' chats. You are also free to upload any of your files. However, there is a size limit, preventing you to send large files.
● Direct messages – This app lets you send group messages, we already got it, but you can also choose a certain person and have one on one conversation with him/her.
onclusion
Overall, GroupMe is a perfect app for daily use if you love chatting with several people at once. Don't get me wrong, direct messaging is also a nice function, but group chatting still remains the most popular one of GroupMe's features. Download this app now and enjoy an ad-free chatting experience.
User Reviews
"I have been using this app for 2 years now and lately it started crashing down. When I'm trying to create groups it tends to freeze and crash quite often. I think this happened after the last update. Because of this, I was forced to go back to the old version of GroupMe, and now everything works perfectly."
"I certainly love this app, some people are complaining about crashes and freezes, but it's mainly due to the large size of the latest update. It contained a lot of stuff like an updated interface and design. It's natural that some of the old phones are not holding up to the challenge. I have been using this app since the new update and everything works just fine."