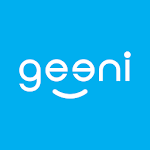 Author:
Merkury Innovations
Package:
com.merkuryinnovations.geeni
Reviews
I'm sure all of you know what Geeni is, but have you ever dreamed of having it on your phone? Turns out, it is now possible. With Geeni app, you can control your devices with voice commands. Sounds sweet, right? Just like in the movies.
Geeni is a free app available for download both on Google and Apple stores. It even has a good version for Windows phone users. It maintains a high rating of 4.0 with more than 16,000 reviews. Judging from the user ratings, this app has improved a lot since the first version, but there are still some bugs to be fixed.
Geeni gives you the power to control all devices with just one app. You can use Amazon Echo in order to make Geeni fulfill your wishes. Geeni brings together a lot of features, most important of them are simplicity and premium quality.
Main Features
● Devices can be controlled easily. Be it a color bulb (specially designed for genie), or a power switch, you can adjust and control all levels according to your needs.
● Group every device in one pack and control them by room. Geeni does not limit its features to one device only, you can make a group of devices and control all of them with a single voice command.
● You are able to automate every action with Geeni. If you know what kind of mood you'll be having in a few hours, go ahead and set the light bulbs to whichever color you like.
● Turn on/off devices easily. The scheduling part does not cover only the bulbs. Each device is connected to a Geeni alarm and can be controlled hours before it performs a certain action.
● Share accounts. Geenie has a sweet feature implemented in the app. This feature is called "sharing" and can be used to share the power of your Geeni with your friends or family members. Setting the options is also possible, you control what commands account holders will be able to perform.
● Control everything from your account. Geeni app is cloud-based, which means your information and customizations will not be lost if something happens. Be sure not to forget your account credentials though. Other than that, there are no threats to your Geeni, simply log in from your phone and control everything under your commands.
Pros
● Friendly interface – Geeni team designed a minimalistic interface, so the users would not be lost in the settings menu. It's very easy to get around and absorb all functions Geeni has to offer in minutes.
● Easy to use – It's so easy even a child can it. This is not an overstatement, Geeni only has a few options, most of which of them are featured on the home page.
● Voice commands – Use Amazon to perform all of your commands.
Cons
Mostly purchased Geeni package costs over $57, which, as it turns out, is expensive for some users.
Conclusion
If you are somewhat lazy and have trouble getting around the house, Geeni will be more than happy to assist you. Just click the "Download" button on this page and get started.