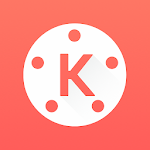 Author:
KineMaster Corporation
Category:
Video Players & Editors
Package:
com.nexstreaming.app.kinemasterfree
Reviews
KineMaster is an application that helps you edit and manage different video files straight from your mobile phone. If you have been using different video editing apps and have not found one that's perfect for you, give KineMaster a shot, it might be just what you need.
KineMaster is free for use and can be downloaded from both Google Play and Apple app stores. It maintains a high rating of 4.4 with more than 3 million user ratings. Judging from the reviews, almost everyone is satisfied with this app and there are few to no negative reviews.
Main Features
● Lots of layers of video, text, effects, and stickers. Different overlays of handwriting.
● KineMaster also has an asset store from which you can download more materials for your video-editing pleasure.
● Awesome themes for your videos. Your editing effects should not be limited to just one theme.
● Frame-by-frame editing. KineMaster features this option for free.
● Control the brightness of your video, make it darker, lighter, or choose whatever brightness effect you want.
● Select and download video-editing materials from Google Drive. Simply connect with your account and sync with all of your media data.
● 1080p resolution features. Another great thing – This feature is free and does not limit the video length.
● Social sharing functions. Create a lovely video and share it on Facebook, Twitter, Dropbox, Youtube, or any other social media of your choosing.
Subscription
KineMater offers a premium subscription. This package comes with premium themes and downloadable video assets like pictures, effects, themes, and many more. The pricing is not expensive at all. In order to acquire a premium KineMaster package, you will be required to pay $5 per month or $40 a year. If you have some money to spare, it's better to go with an annual subscription, it kicks $10 off the original price.
Free Trial
KineMaster lets you choose whether or not you would like to continue with the paid subscription. By offering you a free trial, KineMaster lets you use all the paid features of the premium package for free. KineMaster is highly rated and loved universally, this is precisely why we think you will love the premium package. However, if you choose not to pay, a free trial can be canceled anytime. Please note that if you forget to opt-out of the paid subscription, your card will be billed automatically.
Conclusion
We have conducted a little research and took the liberty of comparing KineMaster with other similar video-editing apps. It did not take us long to figure out that in this price range (meaning the free subscription), KineMaster trumps all of its competitors. Granted, the free version is limited, but you will be able to enjoy amazing free features KineMaster has yet to offer you.
If you are a video lover, or it is your job to edit videos for a living, you probably should download the KineMaster application right now. If you have decided that this is a must-have tool for you, go ahead and click the download button on this page in order to get started.